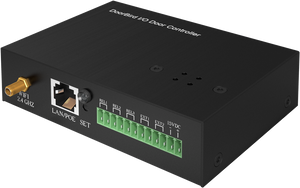 DoorBird I/O Controller + Installation
$69500

$695.00

Tax included
---
---
Price Includes: Device, Parts, Labor, Setup & Integration, Warranty, Taxes
Total All-inclusive Price: $695
PRODUCT SPECIFICATIONS
DoorBird I/O Controller (A1081)

The DoorBird I/O Door Controller offers tamperproof control of up to three doors or gates over a single network. It can be installed in a protected interior area, such as a control cabinet, and can be connected to the DoorBird IP video door station via the same network.
Tamperproof: Signals between the door station and the DoorBird I/O Door Controller are tamperproof and encrypted based on banking standards.
Additional Connections: Allows the possibility of connecting and monitoring two external sensors such as a motion sensor (sold separately).
Configurable: Three freely configurable, bi-stable switching relays (permanently open, permanently closed, toggle).
Always Powered: The switching relays keep their state even in the case of loss of power.
No Wires: No physical wires need to be connected between the door/gate and the door station. The connection between this device to the network can be done through a network cable (PoE cabability) or WiFi.
DoorBird App: All of the doors and gates connected to the I/O Door Controller can be activated by the DoorBird App whenever necessary. Set up alarm notifications via push notification on smartphone and tablet.
Installation: Can be mounted on walls, ceilings, or in control cabinets.
PROFESSIONAL INSTALLATION  

Our technicians will install and program your new DoorBird I/O Controller and put the full potential of this smart device to work for you. As an Illinois-licensed, bonded, and insured installer, you can rely on Nextech to get the job done efficiently and affordably.
 Nextech Energy Systems - Connected Home, made easy.™